Internship during the pandemic? Yes, Nica was looking for an internship while the whole world was filled with questions about the Covid-19. In the article, she shares her experience of how she came across HUONE, challenges and learnings.
I am a student at Haaga-Helia University of Applied Sciences studying Hospitality Management. I have almost seven years of field experience in the restaurant and service industry. I was looking for an internship position that would support my previous work experience, education and where I could learn something new. I'm extremely thankful for the opportunity that Evon Blomstedt, the founder of HUONE, and the HUONE team offered me despite the pandemic. 
How did I come across HUONE during the pandemic?
I was looking for an internship, that would provide me with an opportunity to learn something new and interesting. I heard about HUONE at school and had once even attended a meeting at HUONE with the company I previously worked at. It didn't take me too long to visit HUONE's website and that's when I noticed an opening for an internship at HUONE Singapore.
I thought first, it is crazy to apply for a position abroad during a worldwide pandemic. However, since that was the only opening at HUONE at the time, I decided to try and sent an e-mail to Singapore. It took less than a day for Evon Blomstedt to kindly responded and thanked me for my interest in HUONE. As I secretly feared, Singapore was not an option for me during the pandemic. But that wasn't the end of it: "However, our HQ here in Helsinki might need some help in Marketing and for the new R&D Project. Would that be of interest to you? If yes, please send over your CV to us for consideration." 
Of course, I was, so I sent my CV over right away. After the first interview, I received the news that I got the position, which was a dream come true for me. During the remote interview, we discussed openly the uncertainties carrying out the work considering the pandemic. Overall, the interview was fascinating and got me to thinking professional attributes in depth.
My advice for applying for an internship
I believe that learning new things is never a waste of time or useless. Learning allows you to reflect on yourself at a broader level and it also reinforces your knowledge in new ways. Try to find out the things that intrigue you the most and just go for it! Whether you will actually love the work you will do or not, an internship is always an opportunity to learn. So, dare a little! You'll never know if you never try, right? 
HUONE is the best in the industry
I chose to apply to HUONE, because it is one of a kind,  innovative and inspiring company. I was intrigued by HUONE's customer-oriented way of doing business and its story. Most importantly, our values were a perfect match. The amazing story behind HUONE was something that I highly appreciated and wanted to become a part of. In addition, I wanted to experience something that I had never tried before. This and much more, is what HUONE offered me during my internship. 
It goes without saying – the meeting industry has taken a heavy toll
I have learned a lot about the challenges the pandemic has brought to the meeting industry. Of course, the meeting industry will suffer as face-to-face meetings have not been an option. It also forced companies in the industry to really think hard about what is coming next. It has been a delight to witness that despite the challenges, HUONE has not given up. Through new innovations such as the hybrid meetings, HUONE has kept the ball rolling. That's what I call perseverance. 
Due to remote working condition and HUONE having to close due to the restrictions for the majority of my internship, I'm sure I have not unravelled all the mysteries of the meeting industry. I do believe, however, that I have learned a great deal about the meeting and event industry and its future trends as well as different hybrid and virtual models and their development. 
An internship can be about stepping out of your comfort zone
From the first day of my internship, I felt very welcomed by the staff of HUONE. We went through the plan, basics and goals of my internship, which gave me a clear idea of what to come. Throughout the whole internship, we were in the office only on Mondays, and the rest of the week was remote. I got to attend the weekly marketing meetings, which was really inspiring. Among other things, my internship included learning the basics of search engine optimization (SEO), content production on social media platforms, translating articles and on occasion interesting workshops. I also got to learn and use the WordPress platform to edit contents on the website. I feel my English proficiency improved through these tasks and my creative side was also challenged and got to shine on some tasks.
Working at home independently on tasks you've never done before made me a bit insecure naturally. At first, understanding the concept such as SEO and putting the ideas into use (e.g. checking existing articles) were challenging, but as I got a hang of it, I saw that learning and my personal development were fast. Positive feedback boosted my self-confidence – big thanks to the HUONE team!
I am a very social and outgoing person, so working from home, separate from co-workers was challenging for me. I knew about the "remote"-nature of the internship before I started, so I was prepared for it. Although learning new things is always time and energy-consuming, especially with working remotely, it really gives you a lot. This internship taught me patience and tolerating myself for not knowing everything. As I stepped out of my comfort zone bit by bit, I believed more in my skills. From all the new things you learn, you grow a bit and learn more about yourself. I learned interacting with people is the thing for me and what I'm best at.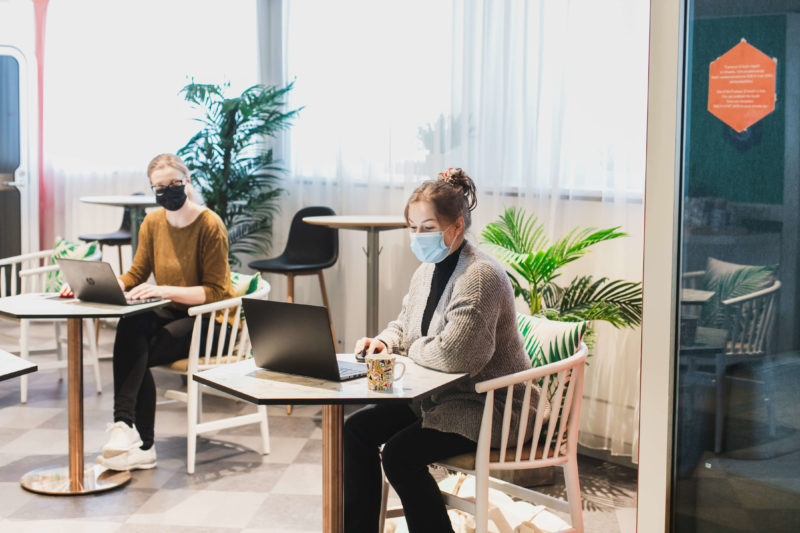 Internship should be a win-win for an intern and the company
I feel I've contributed something for HUONE as well, perhaps by giving "outside of the box" feedbacks on some things and giving a fresh view on things based on my previous experience and know-how. I was excited to participate in creating content for social media, coming up with ideas and getting to execute them. I feel that being accurate and precise with my work, has brought more value to the company.
An internship for a student is a chance to get "hands-on" to real work-life, experience different areas, and find your true calling. As there are a variety of ways to learn, I believe in the old "learn by doing" method. While the theory is an important base for learning new things, you truly learn from the professionals and get a chance to become one yourself. At best, it's a win-win for both the employer and the intern.
We pondered if we can even take an intern during the pandemic. We knew the uncertainty about Covid-19 situation and remote working would affect the working experience. Nica was very motivated but also flexible so we decided to take the leap of faith!  We are very happy Nica became a part of our team even though it was short. Amazing person with a great attitude, and a desire to learn. Thank you Nica 💛

-Laura Tomula, Business Development Manager, HUONE International
Thank you!
HUONE team is full of awesome people, true professionals. I have witnessed great teamwork, and their commitment to service quality, which was always a priority. It meant a great deal for me to learn from these people. Despite the difficulties during the pandemic, the HUONE team was able to create and maintain a positive work environment, which made it easy and comfortable for me to join even from outside. Everything is done full-heartedly by the team,  and always ready to improve – and it shows!