Should we organise a small Christmas for the company this year? Do others organise it? Is it safe? How to plan it safely? What should be considered? How many can be invited? Where can I organise a private party in Helsinki? 
HELP! So many questions. Have you been wondering about what to do with the little Christmas party this year for your company? or Have you been wondering if you should even have one?
We say, YES, you should definitely organise the company's little Christmas, especially this year. Companies have been put in a completely new kind of situation and adapting to a new-norm everyday life has been inevitable. You see your colleagues face-to-face only seldom when most are working remotely. Inevitably, this also means there has to be a change in the nature of corporate parties and team-building events.
However, these important opportunities to spend relaxed time together should not be completely forgotten. The importance of a team spirit and motivation is even more emphasized by Corona pandemic. Often, a company's Little Christmas party is one of the most important joint celebrations, which requires careful planning and often eagerly awaited by all months in advance. Successful little Christmases motivate and engage. A carefully planned party is a great opportunity to boost team morale as well as to concretely show that the team has not been forgotten.
The first question on everyone's mind this year, for sure is "How to organize a little Christmas safely?" Here are some tips from us:
Downsize 
Have a Team Pikkujoulut (Little Christmas party)instead of a company-wide one. Downsize the gathering and organise a little Christmas party with a smaller group, for example, with your department, project team and etc. This emphasizes safety and makes it easier for participants to relax. You can actually try to gather your colleagues' personal wishes regarding the program, space, food and etc. and accommodate them as much as possible. This will make the whole event more intimate, and less intimidating which eventually should boost the overall satisfaction of the event.
Location & Space is the Key
Finding a perfect location is challenging, but important for any company events. It could be even more challenging during a pandemic to find the right space and the setting of the venue because there are extra things to consider. Finding the perfect place can be the key in organising a successful company Little Christmas party, however, there are several things to remember when choosing.
In 2020, the need for 'space' will certainly become the most important. Remember the safety distancing. Will there be plenty of room for everyone considering the 1m distancing? Can we have a private party in the place? Or do we have to share common areas such as lounges, toilets etc. with other guests?
Few questions to consider before booking:
Has the venue readjusted the capacity according to the safety distancing guideline? 
What other security arrangements are in place?
Where does food come from? Is the kitchen in the same space or is it through catering? The fewer people involved in the process, the better.
Are there safety intervals during the meal times and is the service performed safely?
Is the space shared with other partygoers? more private space is, the better.
Will the venue staff help with arrangements?
What is the cancellation policy? Is it flexible?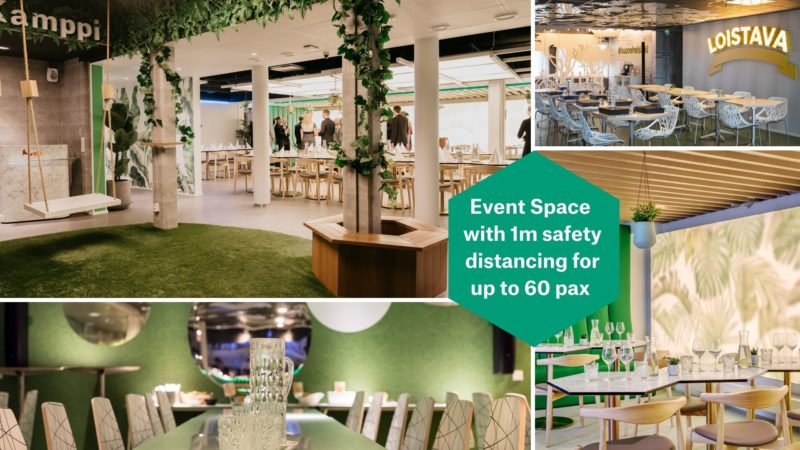 Go Hybrid
Not everyone wants to come to the scene and celebrate face to face, some may get mild flu symptoms at the last minute, and may not be able to join physically. However, this does not always mean that they do not want to participate.
Consider a possibility to organize the Little Christmas party as a hybrid event
, with some people attending on-site and some attend virtually.  Anyone can attend remotely and raise a glass together during the celebration, even one can dress according to the theme! Many programs and activities can also be done remotely, such as virtual bingo or an alias.
Emphasize Safety in Communication, and Over-communicate
Everyone should feel comfortable and welcome. Arrangements made for the event should be clearly communicated with the guests in advance in the invitations or via other internal communication channels. Emphasize safety and encourage participation, but avoid making attendance mandatory.  Remember that the main purpose of having a Little Christmas party is to reconnect with your colleagues, boost team morale, and have a good time. Your team probably has gone through a rough, and strange year of 2020.  Only together, can we start meeting and celebrating safely again!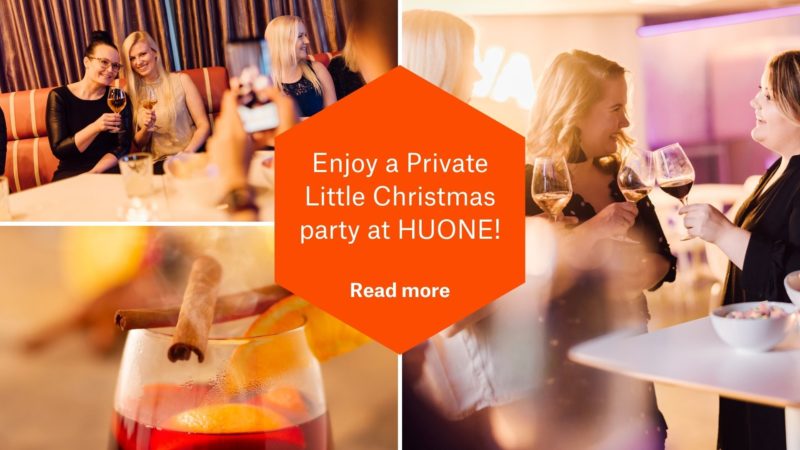 Check out available rooms 24/7