Next in line for the People of HUONE series is Sonja Karanta, one of our professional Event Hosts at HUONE Helsinki. Sonja is known for an excellent customer service mindset; she's instinctive and sharp, but also her warmth impresses our customers. Also being visually creative, Sonja is also the one behind the arts and drawings around HUONE venues. Get to know her!
The reason I ended up in Helsinki is…  I have lived my whole life in Northern Finland, and I always wanted to live in the south. Finally, I decided to move thanks to my friends and partly also the job opportunity I got from HUONE.
The best part of my workday is…definitely when I see our customers happy, and how I can make them even happier through my own work. We make sure our customers are greeted with a smile and their day runs smoothly. I started working behind the bar, which is a new thing for me but it has been exciting; I get to use my visual creativity and skills together with my customer service skills. 
The most interesting thing about HUONE… is our amazing rooms, atmosphere, and my co-workers. One of the most important things to me at work is the atmosphere.
A good team spirit is a must and it is essential that you can be yourself with your team.
My favourite room in HUONE is… definitely the renewed Library-room. It is warm and cozy, which reminds me of my grandparents' homes. Maybe that is the reason I like it so much!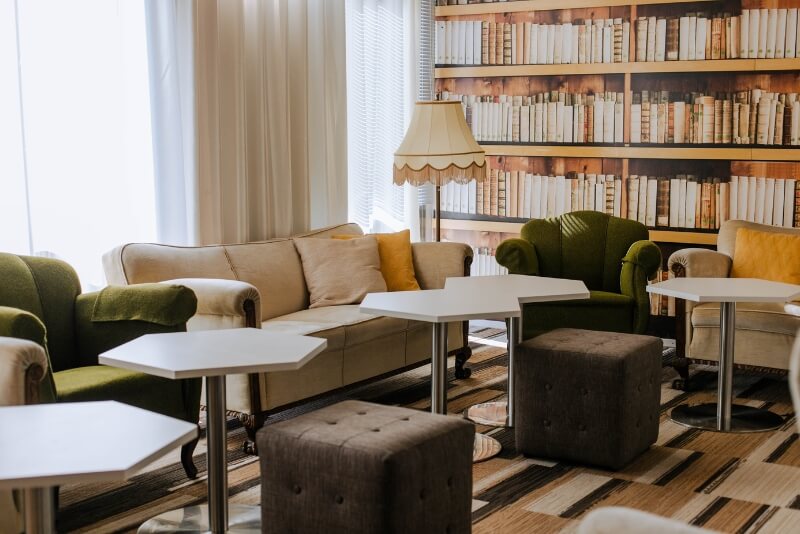 (HUONE Helsinki's Library room got a new look in the autumn of 2022)
If I were to design a room for the next HUONE unit, it would be… I cannot tell what the name of the room would be, but the theme would be all about calmness. Plenty of natural colours, perhaps even some sea-breeze-sound to create the perfect atmosphere. This room would instantly make you feel at peace and help you forget about your hectic schedules left at work/office. The room could have a lot of plants and soft seats, open space, and wood materials.
Working at HUONE has taught me… many new things because I have not worked in the events industry before. However, a hectic, fast-paced environment and last-minute changes were something I knew; And I've learned that this is also something I enjoy. Although I'm young, I have quite extensive experience working in the restaurant business; 
If I were to give a talk about something for 20 mins, it would be about… Music! I could talk about music for hours! I recommend everyone to step out of their comfort zone and try a new artist/song, that they would not normally pick. You can discover new sides of yourself and in the best case find a completely new music genre. This has happened many times to me.
My secret skill is… Singing. I love to sing and have been singing since a little girl. I'm also visually talented and I also like to draw and 'get creative' with makeup. For example, I am a self-learned nail technician and I love to work with beauty alongside my job at HUONE.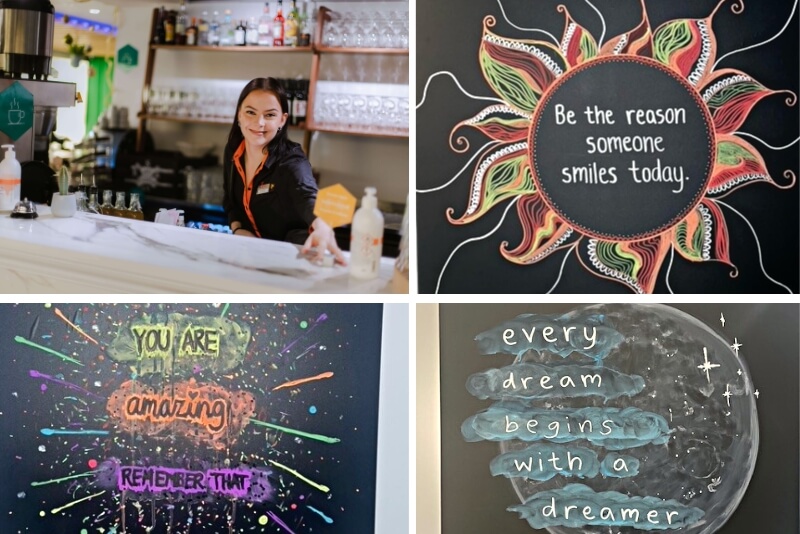 (Sonja's hidden creative talent has been admired by many!)
Three words that make me smile are… There are so many words, but what always makes me smile is knowing that people treat each other right and are polite and equal. I also know a smile will always make others smile as well 🙂
Based on her experience working at HUONE Helsinki, Sonja's tip for a better meeting experience is… 
to remember to smile 🙂 Smile doesn't cost anything, and it will make someone's day!