Next in line for People of HUONE series is…William Montilla, one of the Event Hosts in HUONE Helsinki Team. Since joining HUONE in the Autumn of 2018, he has met and hosted countless customers! He is famous for his fabulous curls and an eye for flawless service design. Get to know him more!
The reason I ended up in Finland/Helsinki is…to find a home 10.042km away from where I was born. I am from Colombia (I have answered this question hundreds of times in the last 7 years in Finland, and recently all I can come up with is that answer😋)
What I do at HUONE is… ensuring a great meeting experience on-site! Especially, I make sure we maintain the high standards of our food and drink from in-house kitchens and the bar. Having a meal together and enjoying afterwork drinks are all part of our customers' meeting experience.  Everything we serve to our customers should meet HUONE service standards, which is VERY HIGH.  
My favourite room in HUONE Helsinki is… Vintage-room. I love the color pallet, the atmosphere and the big windows with a lovely view of our terrace. This room is cosy, full of light and serves many different meeting/event purposes.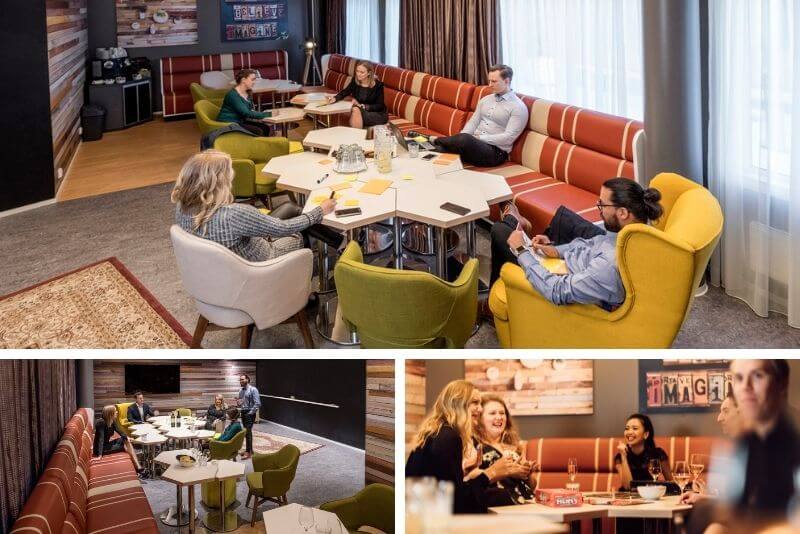 (Vintage room in HUONE Jätkäsaari is perfect for both a day event and evening event)
If I were to design a room for the next HUONE unit, it would be …first I thought, a room full of cats, but it might not be very allergy-friendly… So the Coffee room! The combination of me being born in a country that produces some of the best coffees in the world (Colombia), living in the country with one of the highest per capita coffee consumption and also me being personally addicted to the black elixir, makes me very keen to this idea!  In there, customers would be able to enjoy some nice scenery pictures of picturesque coffee plantations around the world, but also the possibility of getting hands-on action. They would be able to smell, taste and brew different types of coffee and turn their meeting at any point into a coffee tasting. 
(Can there be a good meeting without a good coffee?) 
Working at HUONE has taught me….what a team can achieve when they work together. Last year and a half was not easy for the industry. After this long hard patch, we finally see the end of the tunnel, and I am very proud of every single person in our team. I believe we are stronger than ever.  
Three words that make me smile… are Wine! Dessert! Trip!
Based on my experience working at HUONE Helsinki, a tip for a better meeting experience is … 
…to have a proper 'ending' to your day. I see customers are a lot happier to wrap up their day with a little 'human' moment together whether it's with a glass of something, or small snacks in more casual setting. So next time when you organise a meeting, I highly recommend poping a bottle of sparkling! 🙂
Connect with William 😊
Check available rooms at HUONE Helsinki