HUONE is committed to providing the safest possible environment for meetings. We have listed procedures to help protect the health of our guests and staff. HUONE reserves the right to refuse entry to persons who do not follow the safety instructions. 
Read also: Hybrid meeting packages of HUONE for remote events
(Update 15.1.2021)
With the current recommendations by the Finnish government, HUONE continues to uphold strict safety measures and ensure the safety of our guests. As of November, 26, HUONE will further its efforts by recommending the group to be split into two or more meeting rooms until December 15, when the group consists of more than 10 people. HUONE offers an additional complimentary meeting room for safer meetings.
HUONE also strives for minimizing the crowding in the venue by adjusting arrival and meal timings. We have been recommending also the use of face masks in the venue. We ask our customers for understanding and to follow the provided recommendations to enable everyone to meet safely. HUONE's cancellation policy applies as long as our business activities are not restricted by law or regulations. HUONE reserves the right to refuse entry to persons who do not follow the safety instructions.
1. Arrival timing control to avoid crowding
HUONE adjusts the timing of our guests' arrival to prevent crowding at the reception with our best effort. The floor at the entrance is marked with lines for a safe distance. The same principle is applied for meal timing (e.g. lunch) to avoid crowding the space. 
2. Handwashing and sanitisers
HUONE offers hand sanitiser upon guests arrival for safer meetings. We encourage guests to wash their hands with soap and water. The signages promoting good hand hygiene are visible around the venue. Hand sanitisers are available in every room as well as all the common areas. 
3. Voluntary temperature check
HUONE offers contactless temperature check upon guests' arrival at the door for safer meetings. 
4. Private dining, instead of a buffet, for safer meetings
Instead of a buffet, meals are served in individual portions. Both HUONE Kamppi and Jätkäsaari have their own kitchen which means, fewer people handling food(compared to venues with catering services) and high quality. All groups will be assigned to a section of the dining area. All HUONE staff handling food and drinks wear a face mask as well as gloves to prevent contamination.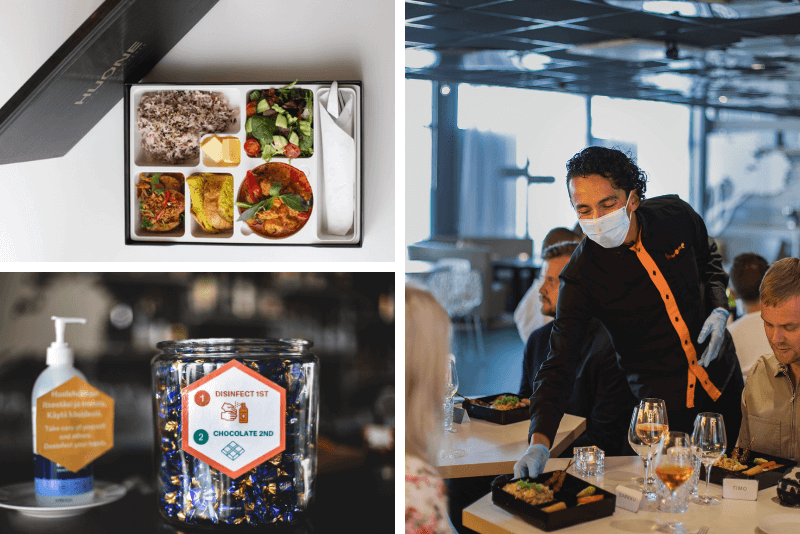 5. Guests who show respiratory symptoms will be declined
Aside from fever, guests showing any Covid-19 symptoms include cough, difficulty breathing will be declined entry.
6. Room capacity adjusted to accommodate safe distancing between guests
Guests are encouraged to mainly stay in their meeting room and avoid unnecessary crowding in the common area.
7. Practice distancing
Meeting rooms are set up with a minimum 1-meter distance between each seat. Guests are encouraged to respect social distancing and maintain social distancing.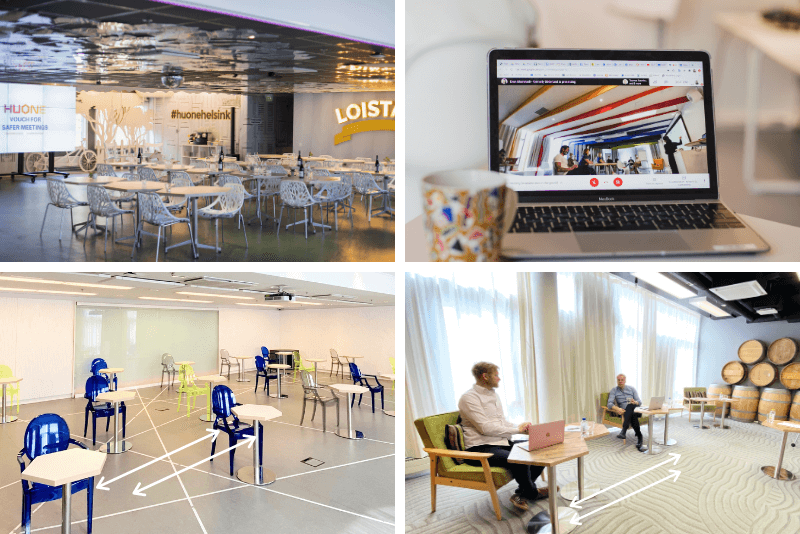 8. Regular disinfecting of the premise
To ensure the highest hygiene of our spaces, common spaces such as toilets, lounge spaces, door handles are disinfected every 2 hours. Meeting rooms every 4 hours usually during lunch hour or breaks. 
9. We recommend to use face masks
Throughout any working day, our employees wear masks. We also encourage our guests to use a face mask during the event. HUONE offers a face mask for each guest upon arrival free of charge until 15.12.2020.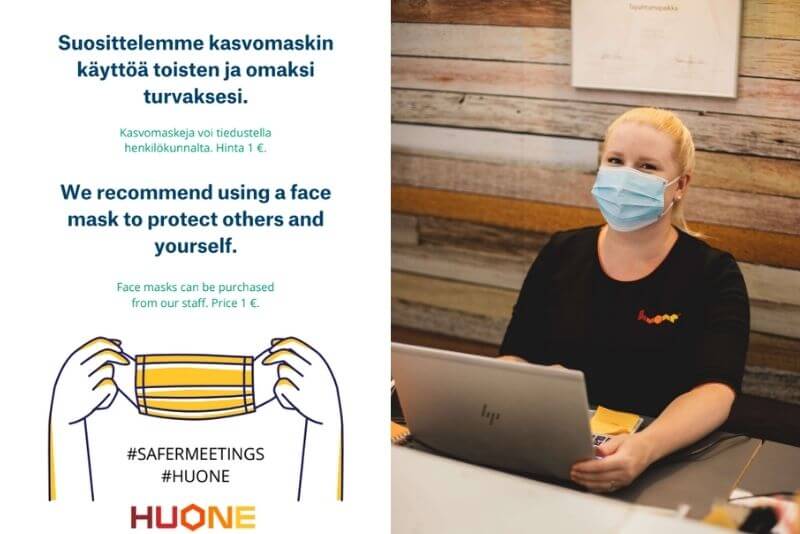 HUONE Helsinki's adjusted capacity during a coronavirus pandemic
The maximum number of people and the minimum pricing of our rooms have been updated to meet the safe distancing (1m) to prevent coronavirus:
HUONE Jätkäsaari room capacities: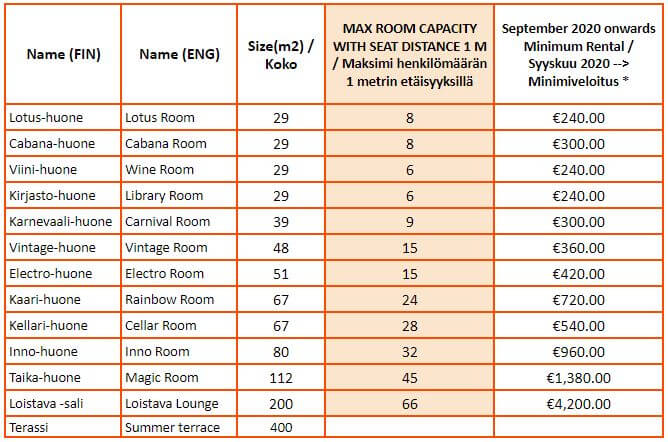 HUONE Kamppi room capacities: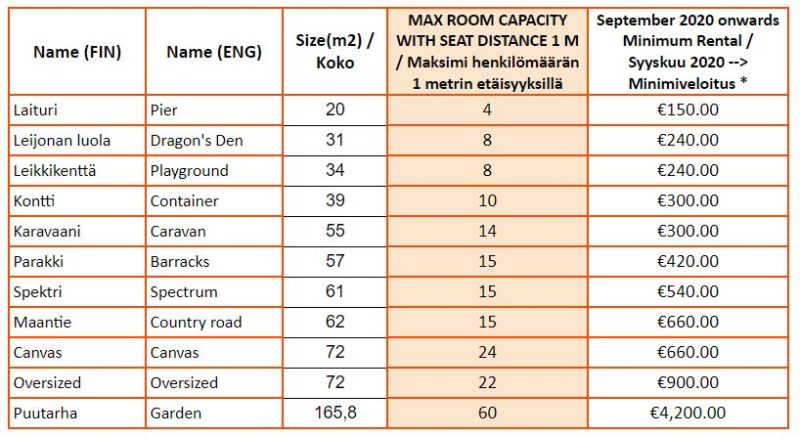 ** Until further notice
Previously we have already taken the following actions
HUONE Team has been trained to work during a pandemic.
We do not shake hands or give hugs to other employees or guests and keep a safe distance. Throughout any working day, our employees wear masks.
We have a small and fixed team in HUONE, for the time being, we are not using any extra personnel. No one is travelling for work until further notice. If our employees have any fever or respiratory symptoms they are ordered to stay home. 
Our kitchen follows carefully all regulations and we pay extra attention to personal hygiene.
We follow all current rules and regulations by the authorities and keep monitoring the situation constantly.
For any queries please contact info.fi@huone.events or call +358 (0)20 785 144040