What does well-being mean in a work environment? We interviewed Sonja Hannus, one of the founders of VIRTA Well-Being, a company that brings holistic well-being to employees in an approachable and easy way. Sonja is also a professional yoga and pilates instructor, she believes bringing well–being as part of the work structure has many benefits such as it working as preventive healthcare for companies.   
In this article, you will
Learn about the meaning of well-being in a corporate setting
Get tips for your personal well being, and better recovery during the summer holidays
Get to know the company VIRTA Well-being and Sonja
---
VIRTA Well-Being has been bringing well-being services to over 80 companies since 2017, which ranges from big international corporations as well as smaller companies. We offer yoga, pilates, relaxation and break exercises, as well as mindfulness meditation to companies. The most common challenge amongst our customers is the way of working; they do mentally demanding expert work, and they sit a lot in front of a screen. 
"Investing in the well-being of your employees will have positive effects. We help you create healthier organizational culture, it will increase productivity, creativity, motivation, and loyalty. We want to be our customers' trusted partner in creating well-being and producing the best tools for the company's most important asset – people." – VIRTA  Well-Being
What was the reason for focusing on companies?
Hanna Toivakka and I, founders of VIRTA have both found yoga and meditation to bring countless benefits to our lives.
We wanted to bring the same to as many others as possible – especially those who normally would not end up in a yoga studio.
The idea of well-being should be more approachable and fun, hence be a part of individuals' daily life. Common challenges in Finland's public are often back pains, migraines, and fatigue, which often lead to more serious problems. We want to be part of preventing these early on.  The most valuable asset companies have are their employees and it is always worth it to invest in people. You can easily start small, for example using our services with a fraction of the sum going to the company's health care. The positive impacts are manifold when you start investing in your employees' well-being. Healthy company culture will also strengthen employer branding, which in today's world carries a lot of meaning – every company wants to attract the best talents.

What are the most typical types of events where VIRTA has been?
We have been part of events covering the entire organization as well as smaller teams. Very often, these are strategy days and team days. We do regular sessions for companies in various industries. For example, in HUONE Helsinki I have done guided relaxations during company events, which help to refresh one's brain and boost your energy during a long and heavy strategy day. I have also done relaxing yoga sessions before/after workshops, and one of the days was a Friday, so there was naturally a glass of sparkling wine after the yoga! We have done yoga both indoors and at the wonderful terrace of HUONE Jätkäsaari.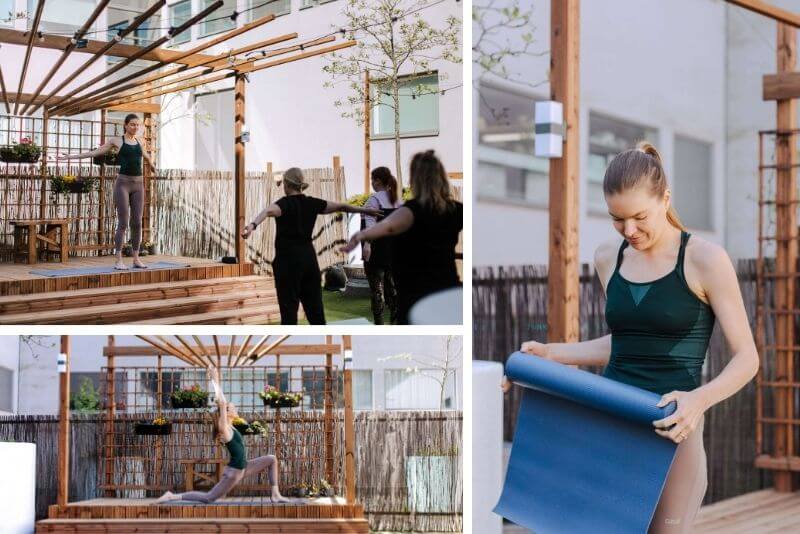 (Sonja guiding a morning yoga during a team day at HUONE Jätkäsaari terrace.)
Do you remember any challenging groups to guide?
Once I guided meditation to a group of developers, who have never before tried any form of meditation. A bit of a thrilling setting but everyone relaxed surprisingly fast and was really wholeheartedly part of the session. Sometimes people come to yoga in their work clothes and this brings certain challenges. Eventually, we always make it work and the sessions end up being successful. With challenging groups, the beginning might be somewhat stiff, but after some time, everyone relaxes. It is great to see how everyone radiates calm and joy afterward! It is rewarding to see how even a short yoga or meditation can bring benefits to someone who has never tried it before. 
How did the pandemic affect VIRTA and how does the future look?
Like many other companies, everything was moved online. Luckily 80% of our customers wanted to continue online sessions and only a few were canceled. We had not done remote or online services before, but luckily my co-partner Hanna is skilled with video and editing and we were able to move all our services online with live streaming in a couple of weeks. We also developed new products during the pandemic, such as the VIRTA Weekly well-being package.
I believe the hybrid working model will be a strong part of companies' organizational culture in the future. Meetings and events will be done both physically and virtually, depending on how employees and teams are located. A hybrid session has its own benefits because it enables participation from all around Finland and globally. However, it is amazing to see how most of our services happen face to face nowadays. The sense of belonging is a big factor and it is best to engage with customers in person!
I think in the future we could combine for example one break exercise a week remote to our customers and a yoga session at the office in person. Offices located in one city surely meet face to face, but when the teams are all around Finland, or even globally, there will be remote and hybrid events for sure. 
Summer holidays are around the corner. What are your tips for relaxing properly during the holidays?
The purpose of a holiday is to let your nervous system relax and give time to yourself to recover from work. This is often more challenging than it sounds.  Often, it does not happen during the first days of your holiday. Sometimes, unfortunately, one notices that once they are fully relaxed, it is already time to get back to work. My tips are simple and once that is so easily overlooked in our hectic lives:
Live in the moment. Observe what is happening around you. Use all your senses – smell the grass, enjoy the tastes of summer, and what do you see? Be fully present in every moment.
Concentrate on one thing at a time. Decide what you need to do and do only that for 25 minutes. Have a break and again decide where you should concentrate for the next 25 minutes.
Go out to nature! Nature truly has a healing effect on us. Leave all electronic devices and social media behind and take a walk. Relax and take in the surroundings. Stop and breathe.
Already with these simple things you will help your body to relax and recover faster. You will get more out of your holiday and have more energy for the work ahead!